We'd like to introduce you to Sue Bass, a cherished member of the PSA Corporate Services team. Since 1986, Sue's journey with PSA has been marked by consistent personal and professional growth. From her beginnings in the Hockessin residential sales office to her current responsibilities spanning administration, property management, and licensing, Sue has displayed an unwavering commitment to excellence. Her dedication and adaptability have left an indelible mark on the company. Join us as we explore Sue's impressive growth, her approach to navigating change, and how she contributes to the unique culture here at PSA.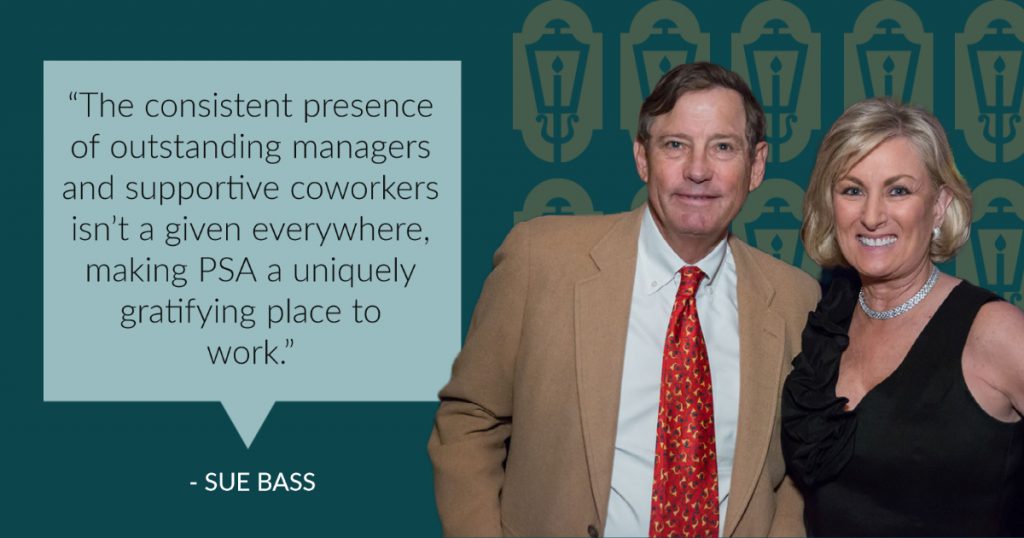 How long have you been at PSA? How did you grow with the company?
I've been with PSA since 1986 and to say the least, I've had a LOT of personal and professional growth. My journey here began when Mary Julian, my boss at B. Gary Scott REALTORS®, brought me with her help establish and grow the newly formed residential sales office in Hockessin. I served there as an administrative assistant for 11 years, contributing significantly to its growth and development. When I first joined that office, we didn't even have the internet! Times have changed so much since then.
In 1997, I transferred to Administration and worked directly with the President/CEO, owners, and leadership team – and still do today. We have a fantastic leadership team with many years of real estate experience.
In 1998, Contributions Committee Coordinator was added to my list of responsibilities. I'm very proud of all the charitable organizations we support in our community!
In January 2001, I was asked if I would take on the responsibility of in-house Property Manager for Hockessin Office Park, our three-story corporate headquarters, under the direction of Charlie Schwartz. I never thought I would be a property manager of a three-story building with multiple tenants, but they had faith in me and I think it's worked out well for everyone for the past 22+ years!
In August 2011, I was given the additional responsibilities of managing our printed supplies inventory and various duties for our Marketing and Technology Departments, one of which includes on-boarding newly licensed and experienced sales associates into all our different systems.
In February 2015, Licensing Coordinator was added to my list of responsibilities to include helping sales associates with any questions about obtaining their Pennsylvania and Maryland licenses or transferring their licenses when they join PSA. I'm also the coordinator of our referral office.
Before joining PSA, I worked for several other real estate companies: Carroll W. Griffith Real Estate (bought out by B. Gary Scott REALTORS®), Tom Livizos Real Estate (for three whole months!), and Spectrum REALTORS®. Patterson-Schwartz was and still is considered to be the best of the best and I can attest to that fact based on my experience working for those other real estate companies. I was thrilled to be hired by PSA and never thought about leaving! PSA is a company with the utmost integrity, always implementing new technologies and very much family-oriented, whose owners and managers genuinely care about their sales associates and employees like they are family.
What keeps you here?
My continued tenure at PSA is anchored by two main factors. Firstly, the sense of value that my accumulated knowledge and skills over the past 37+ years are recognized and appreciated by the team. This appreciation has come with numerous opportunities that have challenged me and fostered my professional growth.
Secondly, the genuine camaraderie and team spirit here at PSA is irreplaceable. We operate as a family unit, from leadership down to every team member. There's a shared understanding that every individual is vital to our collective success, regardless of their role or status. The mutual respect and cooperation are a cornerstone of our culture, making every task an integrated effort.
Specific individuals, like Charlie Schwartz and Joe Pluscht, have significantly shaped my experience here. Charlie's fantastic memory and caring nature, alongside Joe's partner-like treatment, reaffirm the familial culture at PSA. Joe, among many other wonderful bosses I've been fortunate to work with, has made my time at PSA a truly enjoyable journey. Donna Greenspan embodies the essence of PSA's culture. She's not only hard-working and detail-oriented but also incredibly personable and fun. Her caring, understanding nature, combined with her loyalty and compassion makes working for PSA a true pleasure. The consistent presence of outstanding managers and supportive coworkers isn't a given everywhere, making PSA a uniquely gratifying place to work.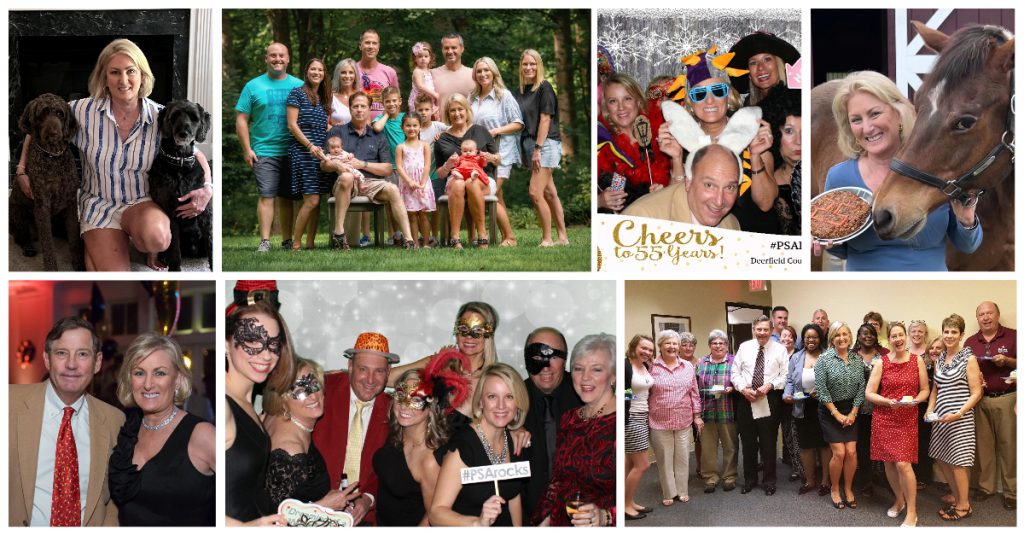 Describe a typical day in your life.
A typical day in my life would be taking an early morning 3-mile hike at Fair Hill with our two goldendoodles, Tucker and Jackson; working a full day from my home office; and then, at the end of my work day, spending time with my horse, Tex, who lives across the street from us. After all that, I relax with my husband, Bob, who retired in 2021 after 31 years as a sales associate with PSA. On weekends, we are blessed to spend time with family consisting of four adult children, their spouses, and nine precious grandchildren.
Ready to grow with us?
Sue Bass is the embodiment of the core values that underpin PSA's success. Since her start in 1986, she has shown an unwavering commitment to personal growth and adaptability, fostering key relationships across various areas of our company. Her consistent dedication to excellence has not only left an indelible mark on PSA but also encourages everyone around her. Inspired by Sue's journey and want to be part of a team that fosters individual growth and values each member's contributions? We'd love to chat with you about a career with Patterson-Schwartz!
Quick Links