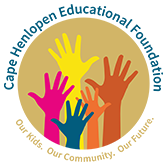 This month's Patterson-Schwartz Foundation spotlight is on the Cape Henlopen Educational Foundation (CHEF) and their Winter Jam 2021 virtual event.
CHEF was created in 2006 to help the Cape Henlopen School District teachers raise funds for unbudgeted projects, support, and resources for their classrooms. Many students have benefited from the CHEF school supply distribution efforts, scholarship funding, and wellness programs over the years. By engaging the community in its support initiatives, CHEF helps local students obtain the tools to thrive and succeed.
Joe Lingo of the Patterson-Schwartz Rehoboth Beach sales office is a former teacher and active CHEF board member. Many of his colleagues from the PSA coastal Delaware team have kids in the Cape Henlopen School District.
"2020 was a year unlike any other and was very unpredictable," says Joe. "By helping CHEF, you are helping the Cape stay strong, and our schools remain a positive place for students to learn."
Winter Jam is CHEF's annual fundraiser and Patterson-Schwartz is a returning sponsor. This year's virtual event is on March 26 and includes live stream appearances from local celebrities and musical acts, and a online live auction and gift card drawing. For more information and to purchase tickets, please click here.
Together we can light the way to a better tomorrow.
The PSA Foundation was created in 2001 and supports numerous local charities and organizations whose causes are close to the hearts of the Patterson-Schwartz family of sales associates, employees, and friends. We invite you to learn more about how Patterson-Schwartz is giving back to the communities where we live, work, and play, and to connect with us when you're ready to partner with a local real estate expert.
Our Rehoboth Beach Sales Center is conveniently located on Route 1/Coastal Highway. Opened in June 2013, this full-service office is home to more than 30 REALTORS who are proud to serve the real estate needs at the beach and surrounding communities of Sussex County, Delaware.