Like the year before, 2021 was anything but typical for the real estate world. Record-breaking home price appreciation, growing equity, low inventory, and reduced mortgage rates, paired with a very motivated buyer population, made for a super competitive and fast-paced housing market.
And in times marked by multiple offer situations and fierce listing competition (on top of pandemic concerns), a lot was demanded of our local real estate professionals. Agents had to be smart, highly attentive, and resourceful to keep up. And good agents found success without sacrificing care for their clients.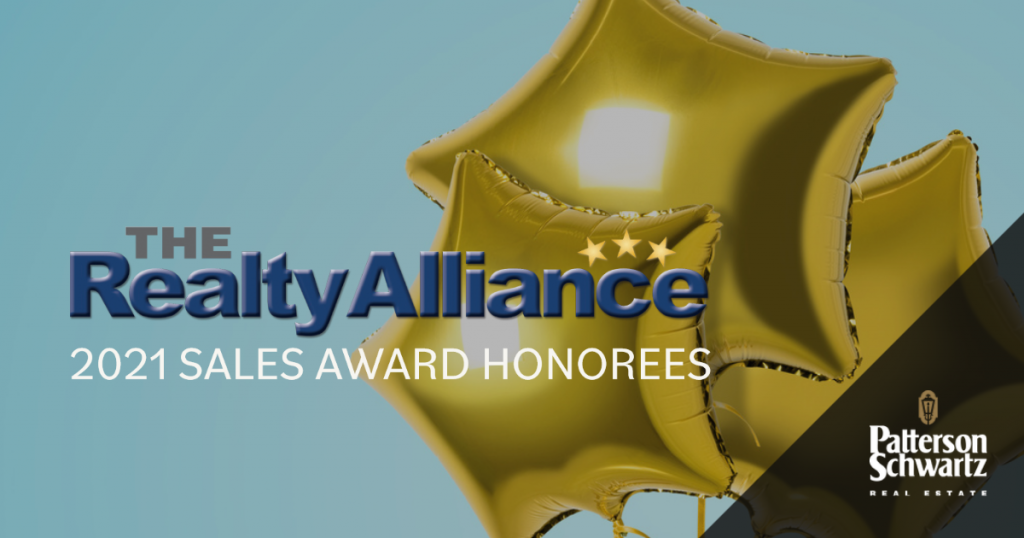 Well-deserved recognition
The Realty Alliance is a network of North America's elite real estate firms, and each year they identify the leading residential sales professionals for their exceptional performance.
The Patterson-Schwartz agents and teams recognized for their efforts in 2021 make up the top 15% of our sales associates in the categories of Units and Total Dollar Volume. The qualifying amounts were 20 Units and/or Total Dollar Volume of $6,000,000.
The 2021 Realty Alliance sales awards are well-deserved, especially considering the year's challenges. We are thrilled to congratulate the 75+ Patterson-Schwartz agents and teams for being recognized nationally for their outstanding efforts and accomplishments. These honorees epitomize our company's dedication to providing superior guidance and service while offering exceptional knowledge of market conditions, and a commitment to represent clients honestly and professionally.
We are incredibly proud of their efforts during these exceptional times.
2021 Realty Alliance Award recipients, listed by sales office:
About Us
Patterson-Schwartz Real Estate is Delaware's largest independent REALTOR® and offers a full range of services that include residential home sales, purchase and rental, relocation services, and property management. We invite you to connect with us when you're ready to partner with a local real estate expert. We've been guiding home buyers and sellers since 1961.
Quick Links