"I have an important update, friends," says Tim Carter as he greets the late October Lunch & Learn crowd at the North Wilmington office of Patterson-Schwartz Real Estate. "Before we start our meeting, I want to share photos from the local mom we helped back in April… a lot of them featuring outfits you so generously gifted. She wants you all to know baby Skylar is doing well and how grateful she continues to be for all of your help."
As sales manager of PSA Brandywine, Tim Carter's strength is bringing people together, whether it's for a training session, a celebration, or, as is often the case, a charitable cause. The office roster is small compared to others in the organization yet the agents are a mighty force when sharing their ideas, time, and resources.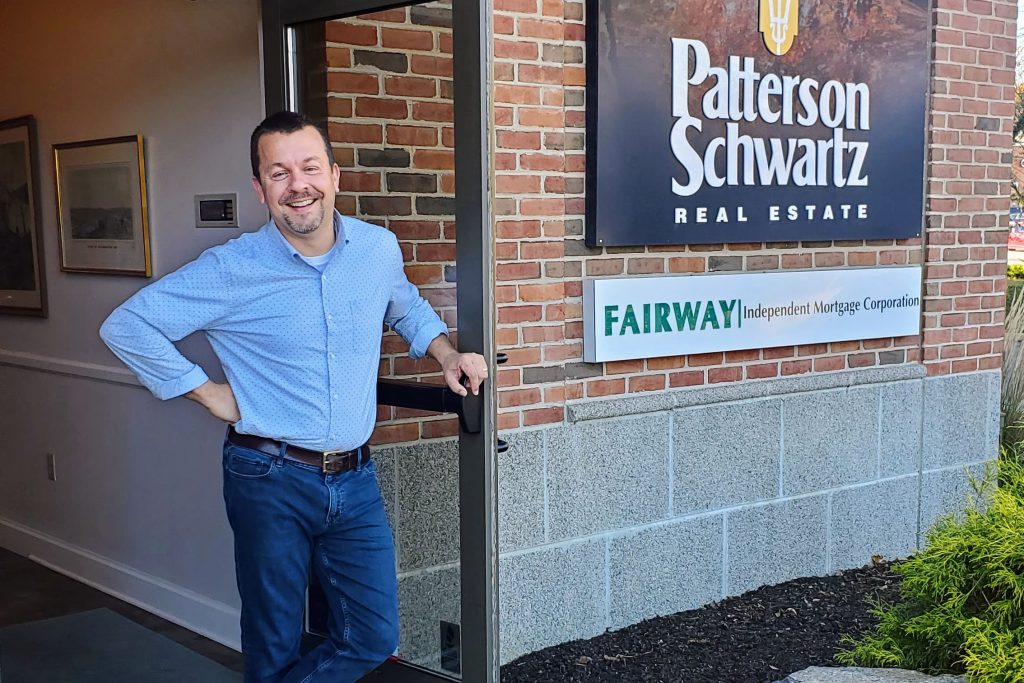 Before April 2022, the mother they helped was just a stranger, struggling with a disability and with limited access to support or resources. Her story reached a member of the PSA Brandywine office and Tim dropped a call-to-action in his weekly communication. In less than two weeks, the office had amassed enough donations of diapers, clothes, and baby supplies to fill four car loads and to keep the little girl outfitted for at least two years.
"We saw a need, spread the word, and came together," says Tim about the donation effort. "It's just what we do."
Where good things happen
The Brandywine office of Patterson-Schwartz is tucked in a quiet corner of a bustling commercial plaza off Silverside Road and is home to about 40 full-time sales associates. The two-story brick building is well-equipped for real estate business with the usual desks, conference areas, and a glassed-in board room. But upstairs, the cubicle walls give way to a bright, open space with three large farmhouse tables scattered with chairs.
"It's a collaborative space," says Tim when asked about the break with tradition. "Previously, we didn't have a place for our agents to gather that didn't feel cramped or formal. One day something came over me and I walked upstairs and just started tearing down a cluster of unused cubicles. Then I went to IKEA."
The re-imagined space works — and not just for sales meetings or holiday parties. Earlier in the month, agents and partners from Fairway Mortgage used the space to put together over 250 bagged lunches for Ministry of Caring. In September, it was used to sort toiletry donations for Ronald McDonald House. And months before that, it was filled with baby shower gifts for someone they had never met.
It's a comfortable space where conversation and laughter flows, and good things happen.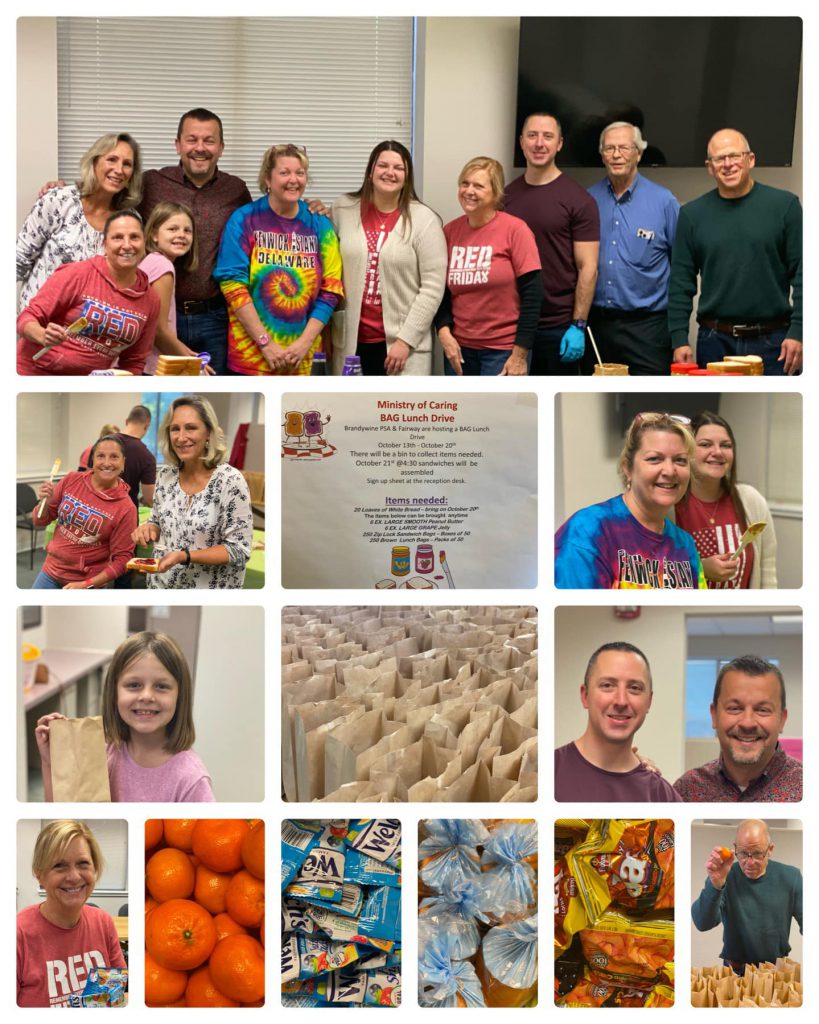 A generous spirit
"We have a great family here. We're supportive of each other professionally and personally, and at the heart of everything is this spirit of generosity," says Tim. "It's no wonder we often find ways to get together that also give back."
And give back they do. The office has a monthly commitment going back 20+ years with Meals on Wheels Delaware and members regularly volunteer for the Delaware Food Bank, but a lot of outreach happens organically as needs develop in the community.
It's these "pop-up" needs that brought their attention to organizations like Urban Promise of Wilmington who needed water bottles for their summer camp program; and the Friendship House Clothing bank who put out an urgent call for winter coats.
It's also what brought them to a stranger's doorstep with baby gifts.
#CountingOurBlessings
After the October Lunch & Learn in the collaborative space, Tim walks back to his office to add the baby photos he received to his window of collages. It's a big collection of happy faces and moments from gatherings and charitable events his office has been a part of.
He has a special memory and story to go with each photo, like a social media feed come to life.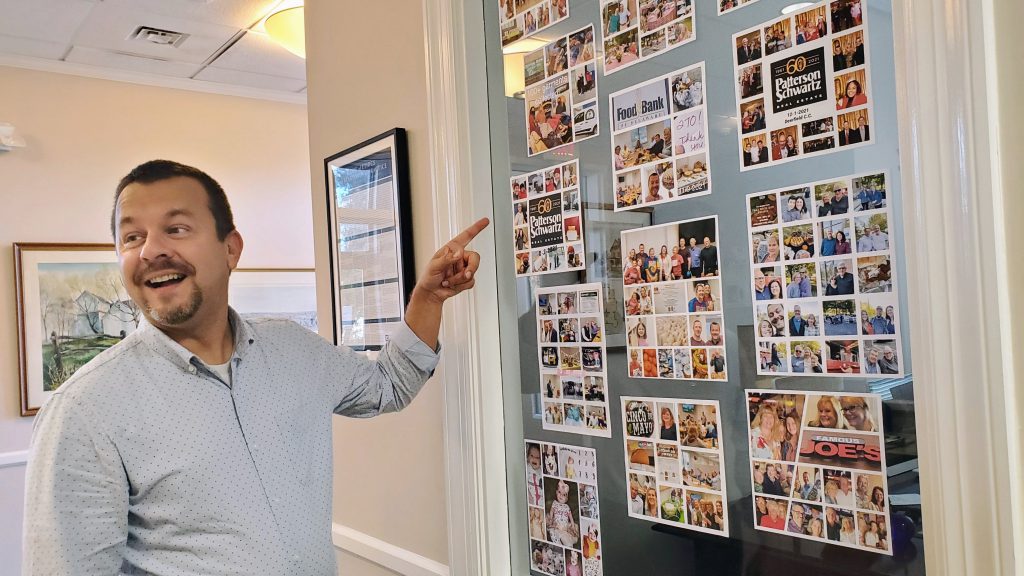 "If you ask, my group isn't really fond of getting their pictures taken. They don't do any of this for recognition, but I've never seen a group of people so generous with their time and resources. I document it to remind us just how truly blessed we are."
About Us
The Patterson-Schwartz Brandywine sales center is located at 2211 Silverside Road. As proud members of the North Wilmington community, the PSA Brandywine staff, sales associates, and mortgage professionals are area experts who care about the people and communities they serve. You're invited to reach out to Tim, his team, or any of our local offices when you need assistance with your real estate goals.
Quick links