Meet Jason Giles, Executive Vice-President of Brokerage Operations at Patterson-Schwartz Real Estate. This year officially marks his 27th year with PSA, although he has been part of the organization much longer. We sat down with Jason to learn a little more about him, his early exposure to real estate, and what Patterson-Schwartz means to him.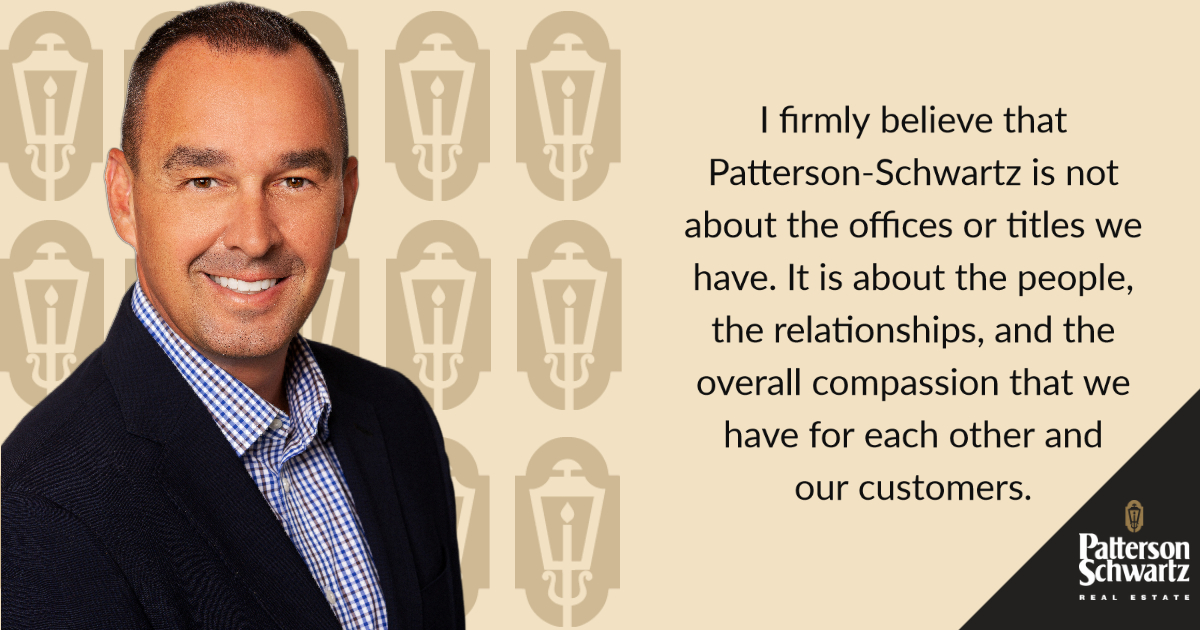 How have your years at PSA impacted you?
I have been with Patterson-Schwartz for 27 years and have been blessed to have had numerous mentors throughout my career, including one of our founders, Charlie Schwartz Sr., also known as "The Bear." I would like to think that I have taken a little piece of each mentor and created my own sense of style while having the foundation and integrity of all of the wonderful people that I have worked with during this 27-year journey.
How did you grow with the company?
My journey began in the early 80s at 913 Delaware Ave in the sign room. My father, Jack, who was the managing broker, would buy my lunch and let me sit in on meetings and talk to agents like Fred Connell, Elmond Stausbach, Jane Garnett, and Ruthie Tingle. I would wander the office and cross paths with the heavy-hitters of the industry like Bill Patterson, a young Charlie Schwartz, and Dick Christopher. This could only happen once my cleaning and organizing of the sign room was thoroughly complete. Looking back, this is where my father's real estate mentoring of me truly began.
In 1995, I was hired as one of the first employees of the Patterson-Schwartz Appointment Center. I set appointments for agents and brushed up with numerous agents in the industry and I began to take aim at obtaining my license. Yes, this was my intended path all along. PSA was more than just a company to me from the very beginning.
Listing and selling real estate in the Limestone office came natural to me, especially under the tutelage of Gerry Dougherty and his son, Neil, who have truly been like family to me. Life-long relationships with the Bachmans, Iliffs, Felicettis, Moffetts, and, of course, Sal Sedita and a plethora of families and individuals only reinforced why I was here and part of this real estate family.
In the year 2000, I became a broker at the age of 28. Thanks to Joe Pluscht, I began training and educating agents in our Hockessin office and I later became his assistant manager. Little did I know I would work arm-and-arm with a true friend and mentor for the next 22 years.
I have worked as a manager/broker at our Delaware Avenue, Greenville, Hockessin, Rehoboth Beach, and Ocean View offices. I have the pleasure to work with our current leadership team that includes property management, financial services, and relocation.
What does Patterson-Schwartz Real Estate mean to you?
I firmly believe that Patterson-Schwartz is not about the offices or titles we have. It is about the people, the relationships, and the overall compassion that we have for each other and our customers.
These beliefs have been instilled in me by many people, many of which are no longer with us. My father/mentor is certainly the one I miss most. I can't tell you how thankful I am to have had him as a father and mentor. I am sure he and many others are looking down proud of what we have accomplished, but even more proud that we have followed through on what their vision was for a local real estate company.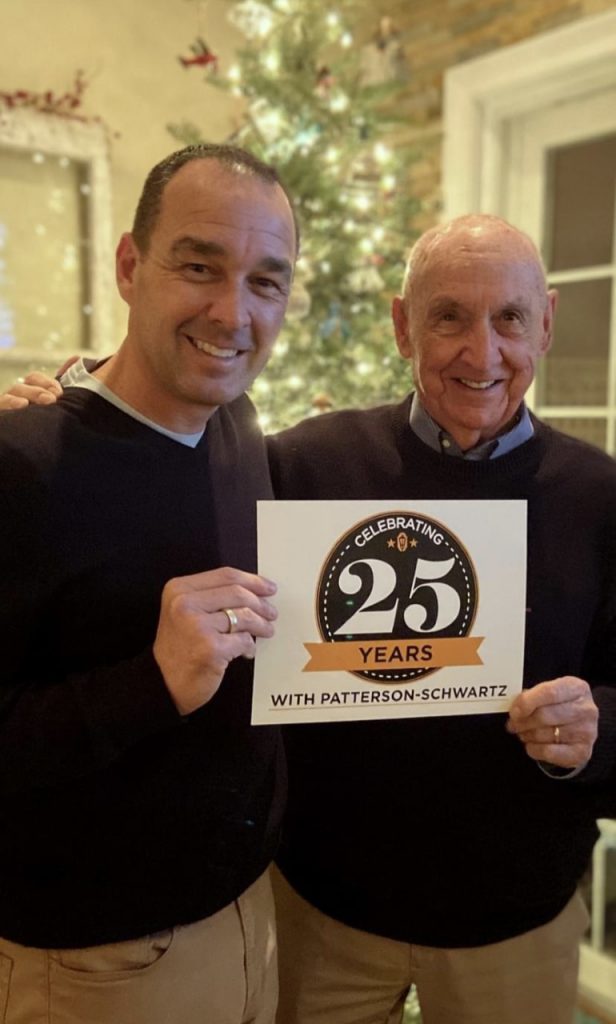 Do you have a motto that you follow for your business, real estate, or in general?
The mantra I follow in my day-to-day business is, "There is no limit to what someone can do or where he or she can go when they are not driven by who gets the credit."
What sets PSA apart as a company? How would you describe the culture?
I am a firm believer that the money one makes is a by-product of taking care of people. Care for people like family and they will not only buy or sell from you but will refer you to everyone they know. You will become family to them. I'm proud of the culture that Patterson-Schwartz fosters. I'm proud that we truly are a local brand that gives back and supports the local community through its agents and employees. It is certainly unique in today's world. As you can see, family means the world to me both in work and at home.
Where do you find inspiration and support?
I am blessed to have a loving wife, Debbie, and two sons, Jack and Joe (19 and 17), that support me in everything I do. I am extremely fortunate to have my mother, Gail, who is the real foundation of our entire family at 87-years-old. When I look at the company I work for, the friends I work with, and the family that surrounds me, "blessed" is an understatement. Thanks to all who make Patterson-Schwartz Real Estate home for so many.
Ready to grow with us?
As you can tell, Jason believes truly caring for people like family — whether they're a client or a co-worker — is how you build a strong community. If you're intrigued by how you'll be supported and cherished like family, we'd love to chat with you about a career with Patterson-Schwartz!
Quick Links