Live music and laughter fill the air as a friendly game of cornhole gets underway in the parking lot of a seemingly quiet Hockessin office park. It's late-afternoon on a crisp fall day and there's not a starched suit in sight.
Business networking never looked so relaxed and fun.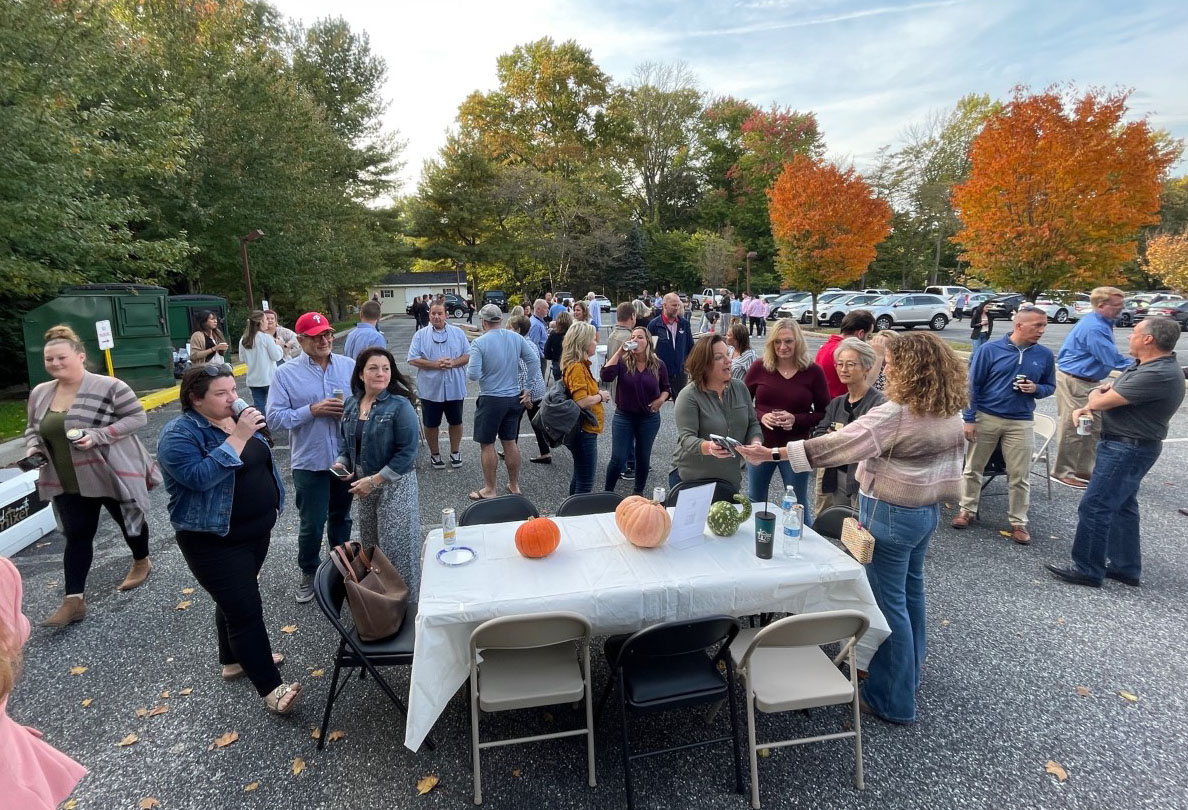 The right event for right now
"We've been deprived of so much socialization over the past couple of years," says Juan Fuentes, Patterson-Schwartz Real Estate agent, assistant sales manager of PSA Greenville, and networking event committee co-chair. "Without a doubt, we are loving the return to office gatherings and in-person celebrations within the organization. The time seemed right to create opportunities to connect with the local real estate community at large. Our Mid-Month Mixer is meant to feel like a fun night out and not a straight-laced business meeting."
Patterson-Schwartz hosted its first Mid-Month Mixer in September 2022 at Timothy's Pub in Newark with great success. Over 100 attendees came out to enjoy drinks and mingle with colleagues and peers from the local real estate industry and its affiliates.
Fairway Independent Mortgage Company of Delaware partnered with Patterson-Schwartz to sponsor the event and played a big role in the launch by promoting the mixer, providing refreshments, and donating a generous raffle basket. Held in the late afternoon on a Wednesday, the bar was busy and the space was abuzz with lively conversation and the exchange of business cards.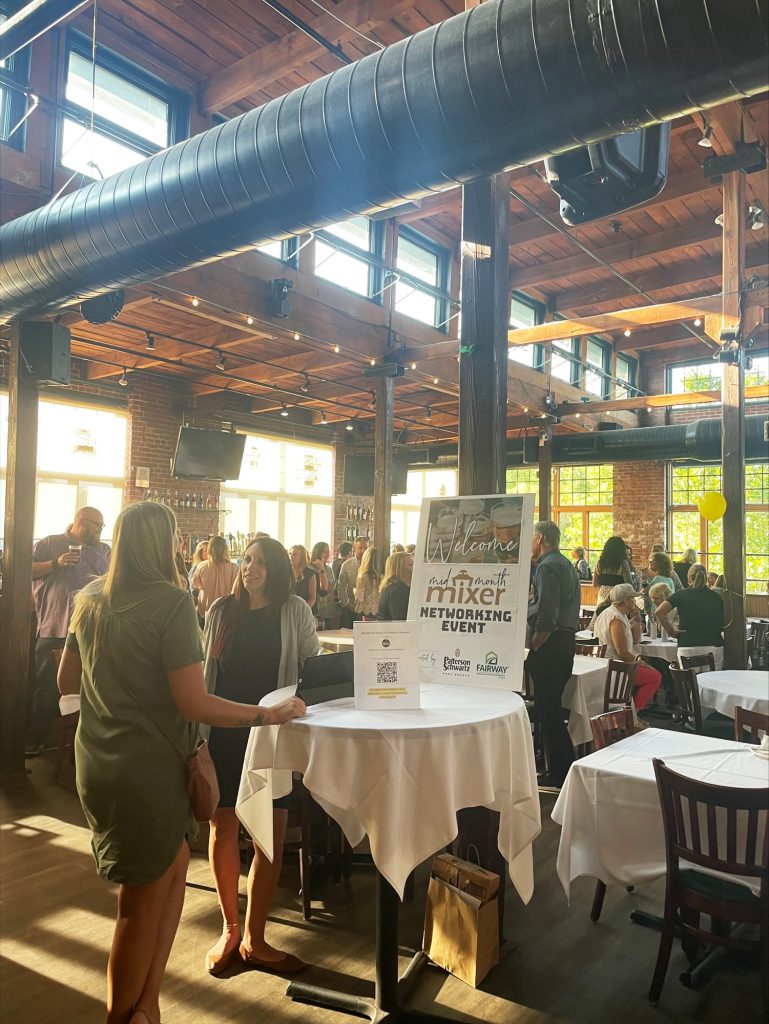 A network of support
October's Mid-Month Mixer was a more casual outdoor affair that put the spotlight on the company's largest office and its hospitable spirit.
The back parking lot was transformed into a picnic area with tables, lawn games, and a makeshift bandstand. Friendly smiles welcomed everyone from new and experienced agents, to local lenders and home service providers. There were raffle and cornhole tournament prizes for a few lucky winners and special branded can koozies available to all attendees. But for many, the real reward was something not so tangible.
"These Mid-Month Mixers have been awesome!" Says first-year Patterson-Schwartz Greenville agent Kathryn Matic, who has attended both events.
"I've been introduced to and formed relationships with several agents in and outside the organization… and I think these connections and having that support from each other are crucial when doing business. All different types of agents coming together in a cool setting has resulted in some great conversations. Hearing about events like these, even my non-industry friends want to get their license and be a part of the real estate scene."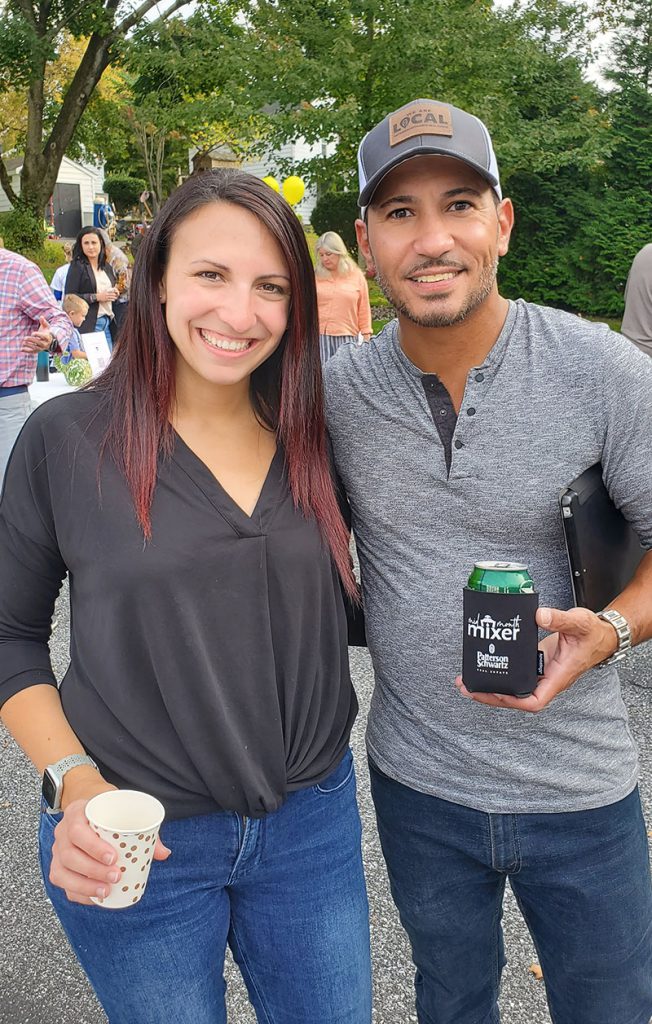 Save the date
Future Mid-Month Mixer events for Patterson-Schwartz are in the works, including one in November on the Wilmington Riverfront.
"We love what we have started here," says Angela Allen, Patterson-Schwartz agent, Assistant Sales Manager of PSA Hockessin, and Mid-Month Mixer co-chair. "It's been great to see people interacting, forming new relationships, and sharing ideas.
"We look forward to continuing this effort with many creative variations and more partners in the upcoming months… Stay tuned!"
In the local real estate industry as an agent or affiliate? Follow Patterson-Schwartz on Facebook, Instagram, or LinkedIn to learn about our Mid-Month Mixer events or send an email to midmonthmixer@psre.com to be added to our distribution list.
About Us
Patterson-Schwartz Real Estate is Delaware's largest independent real estate brokerage and offers a full range of services that include residential home sales, purchase and rental, relocation services, and property management. We've been guiding home buyers and sellers since 1961, and invite you to connect with us when you're ready to partner with a local real estate expert.
Quick links