Patterson-Schwartz is pleased to announce paperless open house registration through the Spacio app! This new, digital process provides a smarter experience for open house visitors and Patterson-Schwartz agents. Registrant information is gathered instantly and more accurately than the manual sign-in process, while automated follow-up ensures the interest in the open house never loses its momentum.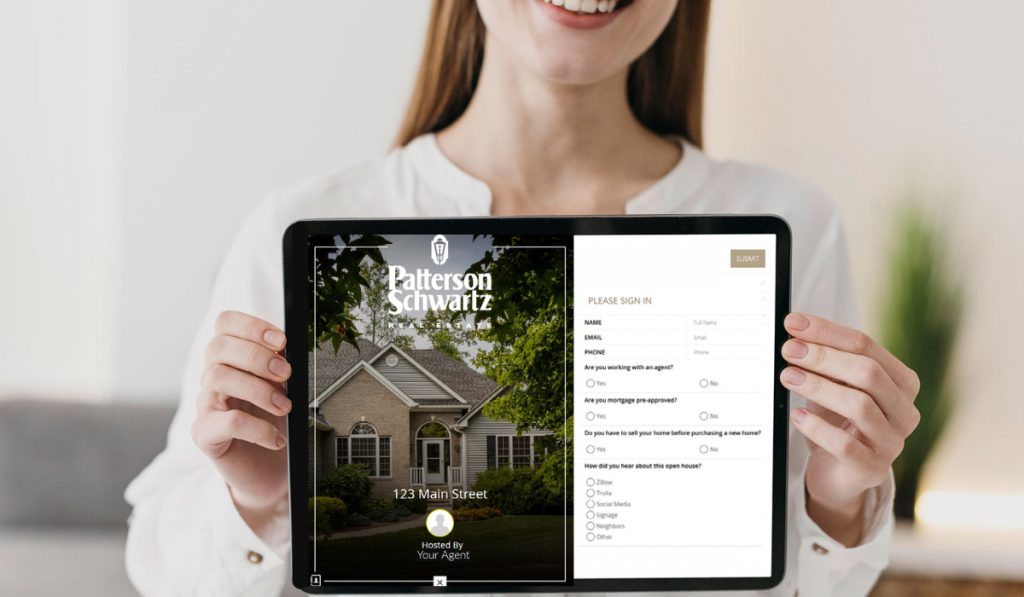 "Spacio enables agents to efficiently and seamlessly connect with potential buyers long after the doors to the open house close. Digitally collecting visitor data also eliminates paperwork and the use of QR code technology provides a touchless aspect. The experience is better, greener, and safer for all involved."

Justin Kierstead, Director of Marketing at Patterson-Schwartz
Maximizing the open house opportunity
While the pandemic put restrictions on traditional open house activity in 2020, the local real estate market is experiencing a return to interest in in-person tours of homes in 2021. According to the National Association of REALTORS, open houses continue to be a frequently used source in the home search process among buyers.
The partnership with Spacio allows Patterson-Schwartz agents to make the most of the open house opportunity. The app is easily accessible via web and mobile devices and integrates with many agents' lead capture and follow-up tools.
The app's top features also make it a great piece of technology for today's fast-paced and safety-minded market.
Each open house event generates its unique URL or QR code, which, when shared with visitors, allows for touchless sign-in on individual devices. These URLs and QR codes can also be shared in advance and save time through pre-registration. And as soon as the open house closes, registrants receive automated follow-up information and can connect with the agent at the click of a button.
"We're thrilled to be able to offer this app to our agents," says Patterson-Schwartz Senior Vice President, Business Development & Corporate Strategist, and Greenville Sales Manager, Donna Greenspan. "Open houses have long been a mainstay to real estate sales, and we love introducing new technology into the experience without sacrificing the personal touch."
About Us
Celebrating 60 years of service, Patterson-Schwartz Real Estate is Delaware's largest independent REALTOR® with nine offices and over 450 full-time Sales Associates. We offer a full range of services that include residential home sales, purchase and rental, relocation services, and property management. We invite you to connect with us when you're ready to partner with a local real estate expert.